Its been 2 years since the world announced that we be with each other  – its funny we need legal papers to be accepted in society, i need a marriage certificate to prove my marriage, i need a birth certificate to prove i was born – what if i misplace my birth certificate, i can never prove who i am? Scary . . . So when one dies, do they bury the birth certificate as well, or maybe replace it with death certificate, does one get a CHOICE of what fonts, text color goes on death certificate!!
Anyways, its 2 years (Officially) but we been together much longer than that. Though each day with you is special, full of anticipation, an anniversary in itself, but Anniversary is one of those rituals that brings refreshment. Many a time its a new start, new promises, more energy, looking forward in anticipation and much more. Every 31st Dec, so many feel refreshed, awaiting for it to be the dawn of new year. New Year, New Beginnings is what its termed as & that's what i feel anniversary does. Its a new year to the same relationship and with every passing year as the human grows older & wiser (hopefully!) and so does the relationship – closer & happier (hopefully!).
Its been a great 2 year journey with you, a journey that I want to continue, a journey that is happy, never ending, a journey that keeps bringing us closer. In these past 2 years, there's never been a dull moment, yes we have worked hard (I can do more I feel), yes we have been partners in crime, yes you have supported me for my stupid decisions (Thank you, continue doing so!), yes you have been awesome, yes I have been silly sometimes (read most of the times), yes you have been crazy wife (I like you that way), yes we share a great chemistry, yes we have a deeper bond, yes we have travelled places together, yes we have missed each other during solo business trips, yes you are my precious wife but the best is that I can not only call you my wife, but I have you as my girlfriend, my pride, my friend, my first mastermind and my precious possession.
I know you are quite familiar with next few lines, will wait for THE MOMENT to read it out loud – and that moment is coming soon, but for now, here's it for you: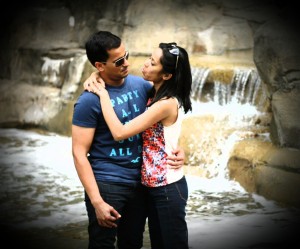 If not for you
Winter would have no spring
Couldn't hear the robin sing
I just wouldn't have a clue
If not for you…