Yes, you get 7 inches of pencil to write with and half inch eraser to undo your mistakes. Whoever came up with this idea, for sure was optimistic. All the writing you do with that long lead would only require small eraser to undo the unwanted writing?
Was that his intent? Or he wanted human to see what little things can do? Small eraser was strong to erase all the writing of long lead? Or was he wanting you to write more and force you to erase less. May be you should look at it that way – Write MORE, erase less. Do MORE, doubt less.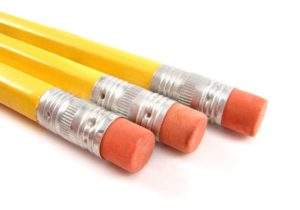 However most everyone doubts every move they make – What if it doesn't work? What if my effort is wasted? What if its not for me?What will others think? What if i gave my best and failed? Isn't that like erasing, before you start writing?  Here's another "What If" – What if you spent hours erasing before you write first word? You wouldn't do that, would you? Ever wonder why all this doubting? Has you past defeats crippled your present opportunity? That should never happen. Past should never slow you down. Past should serve you, not cripple you. It could teach you a lesson, not decide your future.
Now no one is saying – 'not to think'. Think you should, plan you must every move. But once you put your hand on something, you do it with all your might. Move as if you wont be defeated.
Less you doubt, MORE you will do. More you do, more you will experience. And with every experience you get closer to mastery of your venture. Go out and DO MORE. If you dwell on that eraser, all you are left with after all the erasing is empty but smudged life…